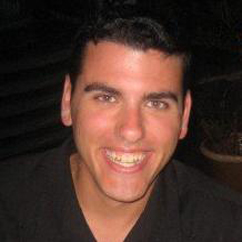 Nicholas D'Angiolillo, B.M. '08, received his bachelor's of music degree in Music Business and Entertainment Industries from the Frost School of Music at the University of Miami, where he was awarded a Stamps Endowed Music Scholarship. D'Angiolillo is the Licensing Representative at Naxos of America, Inc., a leading classical music label with over 360,000 recorded music tracks that are licensed and streamed around the world.
He has been a part of countless custom CD compilations, music textbook accompaniments, television commercials, and film synchronizations including notable Naxos synchs in the productions Shutter Island, Modern Family, Transformers, Boardwalk Empire, Weeds, and most recently the 2012 James Bond film, Skyfall. He is a member in good standing of the Society of Leaders in Development (SOLID) and is an active alumnus from the Beta Tau chapter of Phi Mu Alpha Sinfonia, the Men's Music Fraternity of America. While a student at Frost, he was radio and video coordinator at student-run 'Canes Records and was a promotion intern at Greater Media, Inc.
D'Angiolillo majored in Music Business at the Frost School of Music.