In the 1920s, the United States was rollicking with flappers, automobiles, radio and other technological innovations, Al Capone and organized crime, Louis Armstrong, John Philip Sousa, Charles Ives, and much more. This time of boom, followed by an economic crash and then World War I, defined the culture of Miami and its promoters – especially real estate visionary George E. Merrick, the founder of the City of Coral Gables. South Florida's land boom climaxed in the mid-1920s, as Merrick was bringing his plans for the new city of Coral Gables to fruition. Right from the beginning, his planned community would contain a private university that would attract northerners and serve as a bridge to the Caribbean and Central and South America. One of Merrick's backers, James Cash Penney, pledged $200,000 toward a school of music in honor of his wife, Mary Kimble Penney. Part of that gift was to be $75,000 to endow a professorship, to be used as an inducement to hire Bertha M. Foster, a graduate of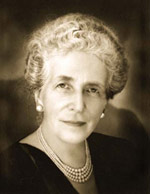 the Cincinnati College of Music, to bring her Miami Conservatory into the new university project. Foster agreed, and the planning started. However on September 17, 1926, catastrophe struck. A devastating hurricane hit the city, and Coral Gables and the new university were in shambles before they even had a chance to begin. Foster's hopes and dreams for a school of music at the new University of Miami faced not only the usual problems inherent in human ventures, but now she had to deal with a blow from nature. Merrick went broke and J.C. Penney's pledge for the fledgling school of music turned to dust in the wind and took Foster's endowed chair along with it. Bertha Foster, Dean (1926-1944) Not to be discouraged, Foster and 22 faculty members and 25 college music majors began classes just one month later, on October 15, 1926 in the old Anastasia Hotel, which had been recently remodeled to become the temporary home of the University of Miami. The Anastasia Building, as it came to be known, was the first of many so-called temporary buildings on campus whose term of service went on for a decade or more. Bowman F. Ashe was the first president of the University of Miami. He remained president for over a quarter century and was a kindred spirit to the indomitable Foster. Ashe and Foster were the two pillars on which the University of Miami began its existence and on which its fate rested for many years thereafter. Lithuanian native Arnold Volpe, who had studied at the St.Petersburg Conservatory with Leopold Auer, came to Miami in 1926 at the bidding of Ashe and Foster. Arnold Volpe founded the University Orchestra and led its first concert on March 6, 1927. Volpe's daughter, Cecilia, comprised one-fourth of the University's first graduating class in 1927. In addition to Foster and Volpe, the first faculty included three piano professors, two in music education, two in voice, and one in cello. The Conservatory also had three art professors and one each in dance and expression. From the very beginning, the UM Conservatory had programs in applied music, music history, music theory, and music education. Volpe conducted the orchestra and Robert E. Olmsted conducted two glee clubs.  Men's Glee Club (1928-29) at the Venetian Pool in Coral Gables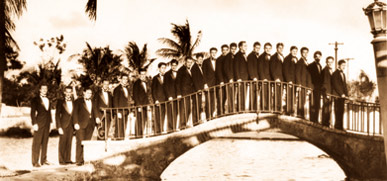 The Great Depression
The Depression years were hard for all involved with the new university, and especially so with the School of Music. The institution was in such dire straights that it could not afford to pay Volpe's salary in 1931. So Volpe went to Kansas City, where he founded the Kansas City Conservatory (now the University of Missouri-Kansas City) before returning to finish his career at the University of Miami, from 1934-1940. The first University of Miami Band (1933), Walter E. Sheaffer, Founder and Director One of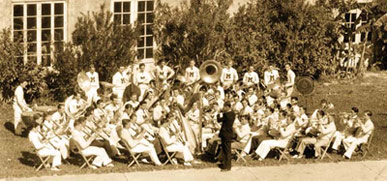 the School's stars during the later years of the Depression was Carl Ruggles, who taught composition from 1938 to 1943. Ruggles was a noted composer of ultra-modern music who came to Miami to visit his son, a University of Miami student, and ended up staying to teach for five years. He wrote several arrangements for the University Band and six brass students performed one of his original works, Angels, at a University Band concert in April 1939, the same year the School became an accredited member of the National Association of Schools of Music.
The War Years and Beyond
As the nation entered World War II, the University of Miami underwent many significant changes. Foster's vision for the School of Music was becoming a reality by the time she retired in 1944. She was succeeded by Joseph M. Tarpley, who had played piano in the first University Orchestra. He served not as dean, but as Secretary of the School of Music, until John Bitter joined the school as Dean in 1950. John Bitter, Dean (1950-1963) Dean Bitter was also the conductor of the UM Symphony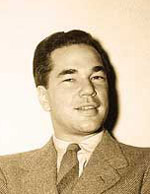 Orchestra, whose concerts became important cultural events in the city and featured prominent guest artists of the day. UM Symphony Orchestra, John Bitter, Conductor Artur Rubenstein, Pianist, Dade County Auditorium (1952) The University Band, which endured a rocky time in the 1940s, stabilized when Fred McCall began his 23-year career as bandmaster in the fall of 1948. This began the development of the famed "Band of the Hour," named after Henry Fillmore's march, the Man of the Hour. Fillmore became an ardent supporter, friend, and benefactor of the band. Under McCall's leadership, the band program grew rapidly and traveled to El Savador and Guatemala, giving concerts and earning great acclaim. Fillmore became increasingly devoted to the University Band and to Fred McCall. The present Fillmore Hall, dedicated in 1959, was a result of his dedication and generosity. In the late 1940s and early 1950s, radio and recordings were having an impact on music at the University of Miami. Station WLRD began to broadcast the University of Miami's Symphony Orchestra's nightly performances in the University cafeteria. In addition, the music education program grew and by the mid-1950s, the School of Music boasted a local chapter of the Music Educators National Conference.