By the 1960s, the University of Miami was growing rapidly. In 1963, the second year of Henry King Stanford's term as president, enrollment at the University was over 14,000. Expansion of students also meant expansion of facilities, and numbers of faculty and programs. The Arnold Volpe Building opened in 1954, followed by the Albert Pick Music Library Building in 1957-58. Henry Fillmore Hall opened in 1958-59, the Bertha Foster Building in 1960, and the Nancy Greene Orchestra Rehearsal Hall in 1961. Fabien Sevitzky served as guest conductor of the UM Orchestra in 1959 and became its permanent conductor in 1963. A highlight of this period was when comedian and television star Jack Benny appeared with the Orchestra in a benefit concert in 1962. Studio Music and Jazz at the University of Miami had its origins as early as the late 1950s and early 1960s. Fred Ashe's extra-curricular jazz ensemble gave way to a Phi Mu Alpha big band, which became a curricular offering under William Russell's leadership in 1962-63. Glenn Draper joined the UM as director of choral activities in 1960, and immediately organized a popular music vocal ensemble, the "Singing Hurricanes," that entertained troops stationed in Europe in the summer of 1961 and that reached a national audience with a performance on the Ed Sullivan Show in the mid-1960s. William F. Lee III, formerly the chair of the music department at Sam Houston State University in Huntsville, Texas, became the School of Music's third dean in 1964. He immediately initiated a seven-year plan for the School that included new undergraduate courses in sacred music, conducting, and music therapy. He initiated music forums, lectures by guest scholars and composers, sessions on career development, and the concept and practice of juried examinations in music performance. Lee also expanded graduate music programs,and hired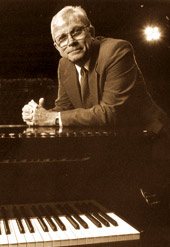 additional faculty members to meet the needs of increasing enrollments and burgeoning programs. William F. Lee, Dean (1964-1982) By 1978, under Lee's leadership, enrollment had increased to 607 undergraduates and 183 graduate students, and the School offered ten undergraduate degree programs with the additions of music merchandising and music engineering technology (the first of their kind in the country), music therapy, studio music and jazz, accompanying, and musical theatre. The graduate division offered master's degrees in music education, applied music, theory and composition, musicology, conducting, music therapy, accompanying, music librarianship, jazz pedagogy, music merchandising, jazz performance, and studio arranging and producing. New Ph.D. and D.M.A. programs were also added during these boom years. UM Percussion Ensemble, 1970, Fred Wickstrom, director Physical facilities grew to accommodate the incredible growth of this period. By the time Lee left the deanship in 1982,
enrollment had topped 825, and the school had developed a host of new undergraduate and graduate programs, raised about $18 million, added four new buildings, and constructed a major addition to the Foster Building. In 1974, the School helped the nation celebrate the centennial of Charles Ives' birth. In a concert and symposium on the campus, Frederick Fennell led the University Orchestra in a performance of Ives's Fourth Symphony, and F. Warren O'Reilly spoke on the significance of Ives and his music.
1983 - 2007: Solid Leadership and Community Engagement
J. William Hipp, previously the chairman of the Division of Music at Southern Methodist University in Dallas, Texas, became the School of Music's fourth dean in June, 1983. He set to work reorganizing the School into eight departments – Instrumental Performance, Keyboard Performance, Music Education and Music Therapy, Musicology, Music Media and Industry, Studio Music and Jazz, Theory and Composition, and Vocal Performance. He also launched the School's widely successful outreach program, Festival Miami, in 1984 and supported the development of a wide range of outreach and community engagement activities, including the UM's internationally renowned Salzburg Summer Program; UM MusicTime, an early childhood program; Honor Band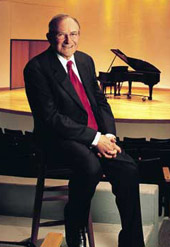 and Honor Choir; Keyboard for Kids; Strings for Kids; and many more. J. William Hipp, Dean (1983-2007) Under Dean Hipp's leadership, the School's administration and faculty worked diligently to place the School in a stable financial position. Since 1983, approximately $100 million in cash and in-kind gifts were raised to support the School's programs and facilities, excluding planned gifts. Exactly 20 years later, in 2003, the School was renamed the Phillip and Patricia Frost School of Music, in recognition of a landmark $33 million gift from philanthropists Dr. Phillip and Patricia Frost, the largest gift ever made at the time to a university-based music school in the United States. The Frosts also created The Abraham Frost Endowment, which supports the commissioning of new works biennially, reinforcing the School of Music's commitment to the creation, performance, and recording of new works. "The arts play a vital role in the life of a community, and music in particular is a unifying force that transcends age, race, and culture. Miami is our home, and Patricia and I wanted to create a legacy that would enhance and sustain the school's important work," said Dr. Phillip Frost, former chairman of the University's Board of Trustees and former chairman/CEO of IVAX Corporation, a Miami-based, publicly-traded, multinational pharmaceuticals company. During the last two decades, the Marta and Austin Weeks Music Library and Technology Center and the L. Austin Weeks Center for Recording and Performance have been constructed, named for generous University benefactors L. Austin and Marta Weeks. The late Mr. Weeks was a retired petroleum geologist and former director of the Bermuda-based company, Weeks Petroleum Ltd.