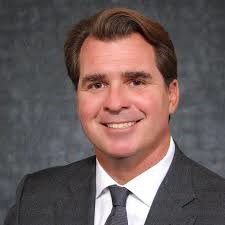 Mr. Smyth is vice president and portfolio manager at JP Morgan Securities in San Francisco, 2010-Present. He co-manages balanced funds for tax-sensitive and income-oriented investors. He is former senior vice president of Grand-Jean Capital Management, 2006-2010, and for vice president of Morgan Stanely Smith Barney, 2001-2006.
Mr. Smyth is an alumnus of Choate Rosemary Hall, Wallingford, Connecticut, a boarding school for grades 1 through 12.
Mr. Smyth speaks French. He is married to Jennifer Smyth. In February 2012, Chuck Cobb invited several members of the Owls Nest Camp at the Bohemian Grove and other guests to his home for dinner. Various areas of the Frost School were highlighted with performances by groups, including the Stamps String Quartet, Extensions (jazz vocal small group), and Musical Theatre. Jennifer and John attended. In February 2013, the Smyths attended the Steve Miller concert which featured the Frost Concert Jazz Band and some of the Jazz Vocal Students. John and his family flew into Miami just to attend the concert. In August 2013, John and Jennifer Smyth were thrilled to be included and attend the Maine Jazz Weekend for the first time. It was hosted by the Weavers and the Georges.