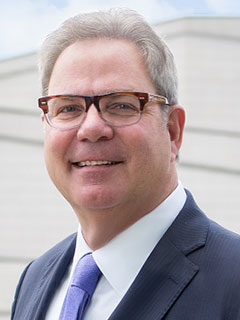 M. John Richard has served as President and Chief Executive Officer of the Adrienne Arsht Center for the Performing Arts of Miami-Dade County since December 2008. Now entering its second decade, the Arsht Center has cemented its role as Miami's New Town Square through Mr. Richard's leadership. The Center is a presenter of world-class performances, an openly-accessible community resource, a source of education for children and adults, and a catalyst for economic growth in downtown Miami. Mr. Richard has also prioritized financial strength, with 2016 marking the organization's ninth consecutive fiscal year with a balanced budget.
 
The Arsht Center's community-based mission has led to the launch of new programmatic series that feature the top artists from around the world and across South Florida, including Jazz Roots, the Knight Masterworks Season and Ziff Classical Music Series, Theater Up Close, Live At Knight, Flamenco Festival and more. All told, the Center hosts approximately 500 performances and events each year which have attracted 3.5 million people to Miami's urban core since opening.
 
Additionally, new public and private investment activity valued in the billions is underway throughout the Center's neighborhood, prompting Mr. Richard to spearhead the creation of the nonprofit Town Square Neighborhood Development Corporation (TSNDC) in 2011. TSNDC is an independent entity overseeing the development of Miami's emerging arts and entertainment district, ensuring the needs of its major stakeholders and cultural organizations are addressed through smart development.
 
Outside his work at the Arsht Center, Mr. Richard is engaged as a member of the Board of Directors for Miami Jewish Health Systems, one of South Florida's largest and most innovative healthcare providers.
 
Mr. Richard and his wife, Dr. Lynne Richard, have a daughter, Rachel, and son, Aaron, pursuing their professional careers.
 
Mr. Richard retired as President and CEO of the Arsht Center on January 1, 2019, after a decade of service.