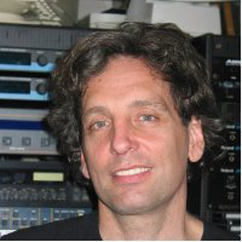 Jim Papoulis, M.M. '82, was named Frost School of Music 2004 Distinguished Alumnus. He composes, orchestrates, and conducts music for dance, film, symphonies, quartets, pop bands, gospel, and choirs. Paploulis' distinctive style combines contemporary sounds with musical traditions from around the globe. His award-winning compositions are known for exploring new modes of musical communication by connecting classical and traditional forms with non-Western sounds and computer technology.
Papoulis explores and creates sound for a global community. He has worked with such diverse international artists and ensembles as Tokyo String Quartet, Moscow Philharmonic, and London Philharmonic to Aretha Franklin, Faith Hill, Shania Twain, and Maroon 5. He has created original music for UNICEF, Dance Theater of Harlem, and Alvin Ailey Dance Company. His works have been performed by San Diego Pops Orchestra, Royal Philharmonic Orchestra, Blue Man Group, and at Carnegie Hall and Epcot.
As an orchestrator, Papoulis' works have been performed by The Paris Opera, Celine Deon, Christina Aguilera, Patti Labelle, Tony Bennett, and Natalie Cole, among others. His work with Martha Wash earned him two top spots on the Billboard Dance charts, with Listen to the People, and Feel the World Dancing.
Papoulis is founder of Amphion Music in Manhattan, a full service music production company specializing in composing and recording original music and orchestrations for several major corporations in retail, food, auto manufacturing, television, and business. As co-founder of The Foundation for Small Voices music project, Papoulis conducts songwriting workshops with children's music programs in China, South America, Africa, Russia, Europe, and throughout the U.S.