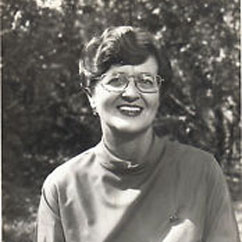 Florida native Connie Weldon, B.M. '53, named University of Miami Frost School of Music 1991 Distinguished Alumna, is known as the first professional female tubist in the United States. A former professor and Dean of The University of Miami Frost School of Music, Weldon performed six years with the North Carolina Symphony and two years with Arthur Fiedler and the Boston Pops. She later became first chair tuba with the Greater Miami Philharmonic.
While a student at the University of Miami, Weldon was accepted to the Tanglewood Music Festival, playing under the baton of a young Leonard Bernstein. In 1957, she was awarded a Fulbright Fellowship Award to study in Amsterdam with the Concertgebouw tubist, Adrian Boorsma. She joined the Netherlands Ballet Orkest and was acting principal tuba of the great Concertgebouw Orchestra. Upon returning to the U.S., Weldon joined the Kansas City Philharmonic for two seasons, after which she returned to Florida to join the Miami Philharmonic and teach at the University of Miami Frost School of Music. She quickly established a reputation as an expert brass teacher and coach. As a result of her successful studio building, Weldon formed the University of Miami Tuba Ensemble, the first credited group of its type at any university. This led to her becoming conductor of the University of Miami Brass Choir.
From 1972 until her retirement in 1991, Weldon was the Associate Dean for Undergraduate Studies at the University of Miami Frost School of Music. She is highly celebrated as a performer and pedagogue, has a music and academic scholarship named for her, and is recipient of numerous honors and awards.