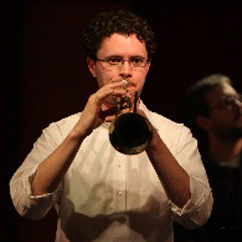 Matthew White, MM '06, D.M.A. '11, trumpeter and composer, is a freelance musician and educator.
As a trumpeter, White has been the featured soloist with the Nashville Jazz Orchestra, Tommy Dorsey Orchestra, The Ed Calle Big Band, South Florida Jazz Orchestra, Gene Krupa Big Band and musical artists Wycliffe Gordon, Ira Sullivan, Kevin Mahogany, Lou Marini, Rihanna, Melinda Dolittle, Sam Rivers and Russ Taff in addition to leading his own ensemble, the Super Villain Jazz Band.
His compositions have been featured on National Public Radio's "All Thing Considered" as part of the prestigious Betty Carter's Jazz Ahead residency and have received Downbeat Magazine's student music awards in arranging and original songwriting. The Washington Post described his compositional and playing style as "rhythmically brash and invigorating."
In the summer 2012, he began touring with the country band, The Mavericks, as part of their Reunion Tour and new record. In August 2012, he began a new job as Assistant Professor of Trumpet and Coordinator of Jazz Ensembles at Coastal Carolina University. White majored in studio music and jazz at the Frost School of Music.