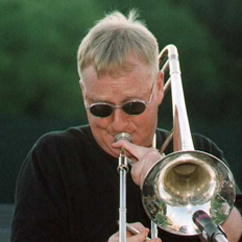 Rodney Lancaster, D.M.A. '09, is the jazz trombone soloist in the Harlem Renaissance Orchestra in New York City. He is instructor of music at La Salle Academy, New York City.
During his career he has played with numerous artists, including backing Ella Fitzgerald at the very start of his career. Lancaster has performed with the Illinois Jacquet Orchestra, Maynard Ferguson & Big Bop Nouveau, the Lionel Hampton Orchestra, Betty Carter, the Manhattan Symphony Jazz Orchestra, David Berger and the Sultans of Swing, the Radio City Music Hall Orchestra and the Chamber Music Society of Lincoln Center and The New Jersey Pops, to name a few.
He majored in jazz performance at the Frost School of Music. For more information on Lancaster visit his website.