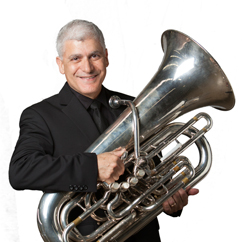 University of Miami Frost School of Music 1996 Distinguished Alumnus Sam Pilafian, B.M. '72 is a renowned tuba artist versatile in both classical and jazz realms. He has recorded and performed with the Boston Symphony Orchestra, the New York Philharmonic Orchestra, the Metropolitan Opera Orchestra, Duke Ellington Orchestra, Lionel Hampton, and Pink Floyd. As a solo jazz artist, Pilafian has recorded fifteen CDs. A member of the large brass ensemble Summit Brass, Pilafian is perhaps best known as a founding member of the internationally recognized classical ensemble Empire Brass Quintet. Solo recital and concerto performances during recent seasons have taken him to Canada, Spain, Sweden, Switzerland, Japan, Italy, Austria, Germany and England.
Pilafian is an arranger, composer, recording producer, and co-author with Patrick Sheridan of the best selling pedagogy texts Breathing Gym and Brass Gym. The duo won an Emmy Award in 2009 for an instructional video on their research-based breathing method.
In addition to his private teaching, Pilafian is the faculty mentor to the Stamps Brass Quintet. He has served on the faculties of The Frost School of Music, ASU's Herberger Institute for Design and the Arts, Boston University, and their summer Tanglewood Institute. He was also a consultant at the Royal Academy of Music in London. A past president and chairman of the board of the International Tuba Euphonium Association, Pilafian now serves on its honorary advisory board of directors.