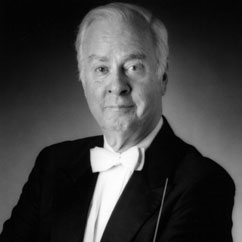 In a career spanning 40 years, University of Miami School of Music 1992 Distinguished Alumnus Thomas Hilbish, B.M. '41 has established himself as one of America's leading conductors of choral music, widely recognized for fostering and interpreting 20th century choral repertoire.
Hilbish attended the University of Miami on music and basketball scholarships, where he was captain of the basketball team, president of the Student Body, and president of Florida Student Government. After graduating, Hilbish served his country during WWII as a naval aviation pilot trainer stationed in Pensacola, Florida. 
Hilbish's legacy is among the world's leading conductors of choral music. He earned his M.M. degree from Westminster Choir College and early in his career, Hilbish served a sixteen-year tenure as supervisor of music for the Princeton Public Schools, where he built the program into a nationally-recognized ensemble, subjects of an article in Time Magazine.. He joined the faculty of The University of Michigan in 1965, serving as Chairman of the Conducting Department for nine years, and Director of Choirs until his retirement in 1987. He founded the University of Michigan Chamber Choir, whose notable accomplishments include performances at Menotti's Festival of Two Worlds in Spoleto, Italy; State Department Cultural Exchange tours to the Soviet Union and Poland; the Canary Islands International Opera Festival in Las Palmas, Spain; a U.S. performance (chorus and orchestra) of Schonberg's oratorio Die Jakobsleiter at the Kennedy Center in Washington, D.C.; and participation as Associate Music Director in the 1982 Fifth International Choral Festival in Philadelphia in collaboration with Robert Shaw. Additionally, Hilbish made several recordings with the Chamber Choir including The Manticore, which received a 1981 Grammy nomination.
Hilbish is also an accomplished orchestral conductor. He conducted the Warsaw Symphony and the Szczecin Philharmonic in Poland, as well as the the Harvard Philharmonic, the Princeton University Orchestra, and the University of Michigan's Symphony, Philharmonic, and Faculty Orchestras. Hilbish currently serves as visiting professor at several universities including the Central Conservatory of Music in Beijing, China, where he conducted the first performance of Bach's Mass in B Minor.
Hilbish retired from the University of Michigan as professor emeritus of conducting in 1988, continuing to hold guest conductorships and visiting professorships at universities across the globe including New York University, Florida State University, UCLA, and the Central Conservatory of Music in Beijing. 
Hilbish passed away peacefully in February 2015, at the age of 96.