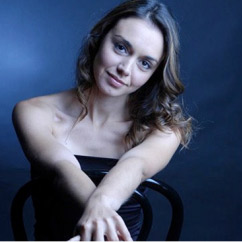 Zoe Zeniodi, D.M.A. '10 was named assistant conductor for the Florida Grand Opera in December 2012. Before being named assistant conductor, Zeniodi was Music Director of the Broward Symphony Orchestra starting the 2010-2011 season. In addition, she and has been named Associate Guest Conductor for the Alhambra Orchestra in Miami. After personal invitation by the English conductor Daniel Harding, she attended rehearsals and concert of the Staatskapelle Dresden in March 2010 for a Schumann week. In May 2010 she attended the full production and rehearsals of Berg's Wozzeck in the Theater an der Wien with the Mahler Chamber Orchestra, Harding conducting.
In the summer of 2010, Zeniodi performed a song recital in Halle, Germany with soprano Myrsini Margariti, attend LSO rehearsals in London, and the Baltic Sea Festival in Stockholm, Sweden. At Harding's invitation, Zeniodi spent 10 days attending rehearsals and concerts given by the Swedish Radio Symphony Orchesta and the Mahler Chamber Orchestra, by conductors Riccardo Muti, Esa-Pekka Salonen and Daniel Harding in repertoires including Mahler's symphonies, Mendelssohn's Elijah and Brahms's Ein Deutches Requiem, among others.
In May 2012, she recorded Thomas Sleeper's Translucence for trombone and orchestra with the Brno Philharmonic Orchestra. Translucence received its world premiere with the Frost Symphony Orchestra in 2009. Zeniodi was a finalist for the Junior Fellowships in Conducting at the Royal Conservatoire of Scotland and the Keele University in England. She returned to the Casa dei Mezzo Festival in Crete, in June 2012, where she performed solo piano and chamber music recitals and presented numerous European premieres. In June 2012, she was chosen to attend the Baltimore Symphony Orchestra conducting workshop with Marin Alsop. She majored in instrumental performance at the Frost School of Music.