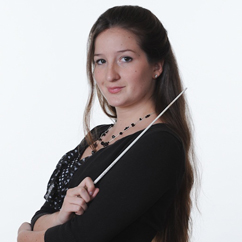 April M. Liberty, B.M. '09, is the conductor of the Young Musicians' Junior and Intermediate Orchestras within the Coral Gables Congregational United Church of Christ Community Arts Program where she is a violin and viola instructor.
Liberty teaches violin to children in grades 3-5 at Florida Youth Orchestra's S.T.E.P.S group at Hialeah Gardens Elementary School and gives private after-school violin classes at Carrollton. She also instructs a group of students at West Lab Elementary School.
When not teaching in schools, Liberty runs a private studio where she teached more than 30 violin and viola students throughout South Florida.
She is Chair of Indego Africa's Miami Regional Board and President of the Liberty Family Foundation. Liberty majored in instrumental performance at the Frost School of Music.