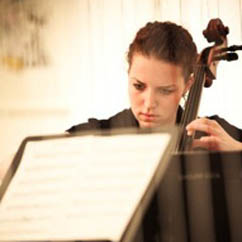 Claire Courchene, B.M. '07, multi-instrumentalist, recently played on three seasons of American Idol (cello and trombone), and appeared with P. Diddy on the Jimmy Kimmel Show.
Courchene recorded the solo cello song "Eclipse" for the Twilight Breaking Dawn movie.  She has written and performed (cello and trombone) on several tracks for Macy Gray, participated in Duran Duran's Unstaged concert, directed by David Lynch, and performed with them at Coachella. She has performed on the PBS Special "Listen to Me: Buddy Holly," and toured the world with Josh Groban.
In 2008, her original electro-jazz group, Jazztronic Groove, opened the first Jazz on Edge Festival. In 2005 she joined Kanye West's "Touch the Sky" tour, playing cello. Courchene majored in instrumental performance at the Frost School of Music.
For more information about Courchene visit her website, http://www.clairecourchene.com