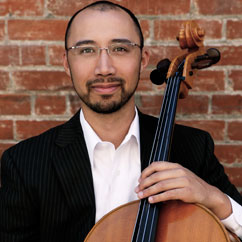 David Bebe, D.M.A.  '09, cellist, is a faculty member at the College of Saint Rose where he serves as the director of the Saint Rose String Program, conductor of the Saint Rose Orchestra, and cello Instructor. He recently received his D.M.A in Instrumental Performance from the University of Miami where he studied with Ross Harbaugh and performed with members of the Bergonzi Quartet. While in Miami, Mr. Bebe performed as a soloist with the Miami Bach Society Orchestra and gave the Florida premiere of Steve Reich's "Cello Counterpoint" with the composer present. He performed with the chamber ensemble Project Copernicus, and formed the Copernicus Duo with violinist Jamecyn Morey. This duo was a featured ensemble as part of Festival Miami and the National Foundation for the Advancement of Arts, premiering new and commissioned works.  He received his B.M. and M.M. at Indiana University where he studied with Helga Winold and Tsyoshi Tsutsumi, and studied chamber music with Rostislav Dubinsky and members of the Cleveland Quartet.
A dedicated pedagogue, Mr. Bebe has been on the faculties of the Indiana University String Academy, the String Academy of Wisconsin, Young Musicians and Artists (OR), and the Gem State String Boot Camp (ID). His Doctoral Essay, "A Logical and Comprehensive Sequence of Skills for Teaching Young Children the Cello" includes a cello method and website.
As a conductor, he has served as associate conductor for the Frost Symphony Orchestra, Clarke Chamber Players, and was appointed the Broward Symphony Orchestra's guest conductor in the spring of 2009. He majored in instrumental performance at the Frost School of music.