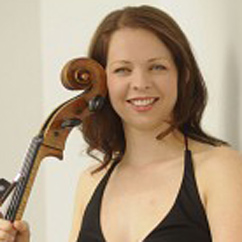 Tara Hanish, M.M. '04, cellist, is currently on faculty at the Cleveland Institute of Music Preparatory School and the Fairmount Center for the Arts. Hanish has been a member of the Akron Symphony Orchestra since she moved to Cleveland in 2004.  She performs often with the Canton Symphony Orchestra, Erie Philharmonic and Suburban Symphony.
Hanish currently plays cello for Seafair, an indie/folk-pop band based in Cleveland, and is a founding member of the Azalea String Quartet, which was a finalist in the Hugo Kauder International String Competition and the J.C. Arriaga Chamber Music Competition.
She has performed with many notable artists on tours and concerts, including Kanye West, the Foo Fighters, Josh Groban, Barry Manilow, the Trans Siberian Orchestra, Patrizio Buanne, Smokey Robinson, Diana Krall and Randy Newman. She has performed at the Grammy Awards with the Foo Fighters and John Paul Jones as a winner of the 2008 "My Grammy Moment" competition on YouTube.
Hanish has taught on the faculties of the Beck Center for the Arts and the Avon School of Music. She has been a chamber music coach for the CIM Summer Chamber Music Camp, as well as the Michigan ASTA Jr. High String Camp. Hanish majored in instrumental performance at the Frost School of Music.
For more information about Hanish visit her website, http://www.tarahanish.com