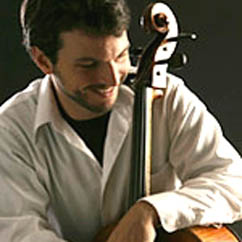 Wells Cunningham, B.M. '96, cellist, is the first cellist to win the University Miami's concerto competition.  Currently he serves as faculty at the Frost School of Music Young Musicans' Camp. Upon graduation from Frost in 1996, he was invited to tour Europe as principal cellist and soloist with a nationally assembled orchestra. While in France, he performed the Elgar Cello Concerto.
In 1998, he received his master's degree in cello performance from Eastman School of Music and returned to Miami to play with the New World Symphony for the next two years as both principal and section cellist.
Wells published The Art of Scales in 2009, a guide to a new approach to learning scales. He is well-known online for his YouTube video, The Impossible Duet: Handel-Halvorsen Passacaglia for Cello and Violin, which has more than 1.6 million views. He majored in instrumental performance at the Frost School of Music.
His playing has recently been featured in recordings by Nelly Furtado, Marc Anthony and Jennifer Lopez.
For more information about Cunningham, visit http://www.artofcello.com