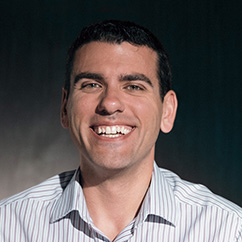 Nick D'Angiolillo, B.M. '08, received his bachelor's of music degree in Music Business and Entertainment Industries from the Frost School of Music at the University of Miami, where he was awarded a Stamps Endowed Music Scholarship. D'Angiolillo is the Director of Licensing & Library Services at the Grammy Award-Winning Naxos of America, Inc., the world's leading classical music group with over 2.1M recorded music tracks that are licensed and streamed around the world.
He's been a part of countless international advertisements (including spots for Verizon, Crayola, Nike, Oreo, GoPro, Samsung, Hyundai, Perrier, Hulu, & Netflix to name a few) - music textbook accompaniments, video game productions, and television/film synchronizations which include the Netflix Original Series' Daredevil, Chef's Table, Hulu Original Series "The Handmaids Tale", House of Cards, ABC's Modern Family, Bob's Burgers, Guardians of the Galaxy, Boardwalk Empire, James Bond: Skyfall & Spectre, Fantastic Beasts and Where To Find Them, and most recently Call Me By Your Name!

Nick is an active member of the International Association of Music Libraries, the Billboard Film & Television Music Creative community, SOLID, and is involved locally with several Nashville, TN service organizations, including Nashville Cares.  Nick is also an active alumnus from the Beta Tau chapter of Phi Mu Alpha Sinfonia, the Men's Music Fraternity of America. While a student at Frost, he was radio and video coordinator at student-run 'Canes Records.