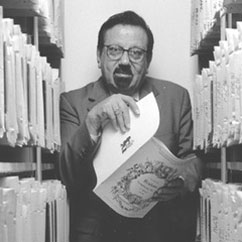 University of Miami FROST School of Music 1995 Distinguished Alumnus Dominique-René de Lerma, B.M. '52 is a highly accomplished oboist, educator, American musicologist, and professor of music history who is considered the world's foremost authority on black classical composers.
In 1951, de Lerma became the youngest member ever to join the University of Miami School of Music faculty. He taught classical and general music history, music humanities and symphonic literature, while also coaching oboe and bassoon. Subsequently, he accepted several distinguished appointments at national universities and music conservatories, including Indiana University and Morgan State University. De Lerma is currently Professor Emeritus at Lawrence Conservatory of Music in Appleton, Wisconsin. While there, he directed the Ben Holt Memorial Concert Series, dedicated to the presentation of young Latino, Native American, and Black talents of international distinction.
De Lerma's more than 1,500 published titles include monographs, liner and program notes, edited music, and articles in all of the leading musicological dictionaries and journals. He has given lectures throughout the U.S. and Europe, and has served as a consultant to national arts organizations, major American orchestras and record labels, and numerous educational institutions. His pioneering work in the field includes founding the former Black Music Center at Indiana University and serving as director of the Center for Black Music Research in Chicago, where he also taught at Columbia College and Northwestern University. He was Chief Consultant to Columbia Records for their award-winning Black Composers Series, serving regularly as a consultant to orchestras, ensembles and concert artists in the United States and Europe.