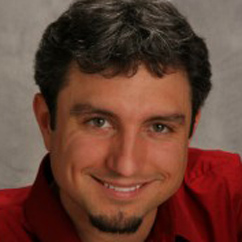 Jamie Tagg, B.M. 04, has worked as a recording, sound, and post-production engineer for the following organizations: The Banff Center for the Arts; Setnor School of Music at Syracuse University; The Boston, Imperial, Canadian, and Dallas Brass Ensembles; Hugh Fraser; David Leibman; The Cassatt String Quartet; The Bergonzi String Quartet; the Gregg Smith Singers; University of Miami; and, Miami's professional vocal ensemble Seraphic Fire directed by Patrick Dupré Quigley.
Tagg engineered three Grammy-nominated CD's: A Seraphic Fire Christmas, performed by Seraphic Fire, a professional chamber choir based in Miami and Brahms: Ein Deutches Requiem, Op. 45, also performed by Seraphic Fire. Peter Rutenberg, Grammy-winning conductor and record producer, was nominated for Producer of the Year for his work on the Brahms Requiem and Vanishing Nordic Chorale CDs, both of which Tagg recorded.
He holds a Master of Music degree from the Sound Recording Technology Program at the University of Massachusetts – Lowell and is working on his Ph.D. in Sound Recording at McGill University. In 2012, he received one of seven prestigious international scholarships from the Audio Engineering Society Educational Foundation.
Tagg majored in music engineering at the Frost School of Music.