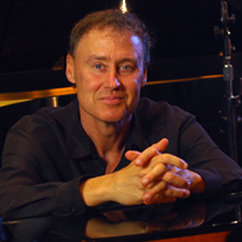 Bruce Hornsby, B.M. '77, University of Miami Frost School of Music 1989 Distinguished Alumnus, is a thirteen-time Grammy Award nominee and three-time winner. He has sold over 11 million records worldwide and collaborated with such artists as Bob Dylan, Sting, Bela Fleck, Stevie Nicks, Branford Marsalis, and The Grateful Dead, among many others. Hornsby is an American singer and keyboardist notorious for the spontaneity and creativity of his live performance. His songwriting and seamless improvisation draws from classical, jazz, bluegrass, folk, Motown, gospel, rock, and blues.
Hornsby's Grammy awards include 1987 "Best New Artist" for the debut album The Way It Is; 1989 "Best Bluegrass Recording" for his hit "The Valley Road" from the album Will The Circle Be Unbroken, Volume II; and with Branford Marsalis in 1993 for "Best Pop Instrumental Performance" for their song "Barcelona Mona," written for the Barcelona Olympics.
Known in the music industry as a collaborator, Hornsby has been sought after by a veritable "who's who" of music professionals. He has played on over 100 records and composed the end-title songs for two Spike Lee films, Clockers and Bamboozled, as well as the score for Lee's 2009 ESPN documentary Kobe Doin' Work. Hornsby also wrote songs for the 2011 Broadway musical SCKBSTD. His latest CD Bruce Hornsby-Solo Concerts was released in August 2014 on Vanguard Records.
Outside of music composition and performance, Hornsby endowed The Creative American Music Program at University of Miami's Frost School of Music, designed to develop the creative skills of talented young artists and songwriters.