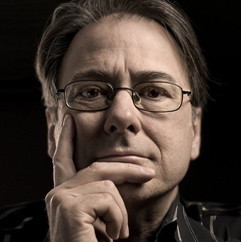 Charles Mason, B.M.  '77, is associate professor and chair of the Department of Theory and Composition at the University of Miami Frost School of Music, where he received the Distinguished Alumnus Award in 2009.
He has received many awards for his compositions including the American Composers Orchestra "Playing it Unsafe" prize, the 2005 Rome Prize, the Premi Internacional de Composició Musical Ciutat de Tarragona Orchestra Music prize, and a National Endowment of the Arts Individual Artist Award.
He was named 2009 Distinguished Alumnus by the Frost School of Music. His music has been performed worldwide including the FORO INTERNACIONAL DE MUSICA NUEVA in Mexico City, the Quirinale in Rome, the Aspen Summer Music Festival, and the Nuova Musica Consonante in Romani and broadcast over RAI radio throughout Italy and on NPR's "Performance Today." Dr. Mason has received commissions from many top ranked ensembles including American Composers Orchestra, DUO 46, Miami String Quartet, Gregg Smith Singers, Dale Warland Singers, Corona Guitar Kvartet, ONIX (Mexico), Luna Nova, bassist Robert Black, violinist Karen Bentley Pollick, New York Golliard Ensemble, and cellists Madeleine Shapiro, Craig Hultgren, and Jeffrey Solow to name a few. He completed his DMA and MM in composition at the University of Illinois and BM with honors from the University of Miami.
In 2005 he was a composer in residence at the International Centre for Composers in Visby, Sweden and twice sponsored by the Seaside Institute as an "Escape To Create" composer-in-residence.
For more information please see his website.