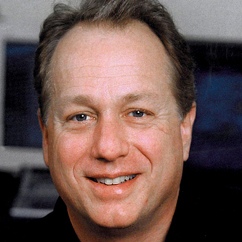 Frost School of Music's 2005 Distinguished Alumnus Joel McNeely, B.M. '82, is an Emmy Award-winning composer, producer and conductor who works with many of Hollywood's most influential producers and directors including James Cameron, John Lasseter, Seth MacFarlane and George Lucas. McNeely received an Emmy Award for Outstanding Achievement in Music Composition, an ASCAP Film and Television Award, and a Gramophone Magazine Award. He was nominated for an Emmy for Outstanding Achievement in Music Direction, a Grammy for Outstanding Classical Crossover Album, and an Annie Award for Outstanding Music in an Animated Feature.
McNeely's repertoire of major motion picture and television scores include Disney's Tinkerbell films, A Million Ways To Die in the West, The Last Of The Mohicans, Holes, Mulan 2, Return to Neverland, Wild America, The Avengers, Air Force One, and Terminal Velocity. Some of his television credits include American Dad, James Cameron's Dark Angel, Sally Hemmings: An American Scandal, and The Young Indiana Jones Chronicles. A frequent guest lecturer on the subject of film music studies, McNeely has presented at USC's Thornton School of Music; the American Film Market; the Frost School of Music; James Madison University, and the Interlochen Center for the Arts.
As a conductor, McNeely has led the Royal Scottish National Orchestra, BBC Concert Orchestra, Los Angeles Chamber Orchestra, and London Philharmonic, among others. He has produced and arranged songs for such artists as Carly Simon; Crosby, Stills and Nash; Linda Rondstadt; and Rosemary Clooney. At age 14, McNeely was accepted into the Interlochen Arts Academy studying composition and flute performance. While studying jazz composition and performance at the University of Miami Frost School of Music, he toured the world with legendary performers Tony Bennett, Peggy Lee, Al Green, Melissa Manchester, Chuck Mangione, Bobby Caldwell, and Jaco Pastorius.