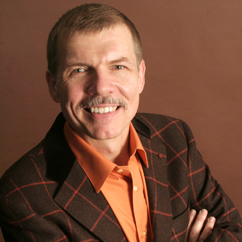 University of Miami Frost School of Music 2000 Distinguished Alumnus Kenneth Fuchs, B.M. '79, is an acclaimed composer of music for orchestra, band, chorus, and various chamber ensembles. He has received numerous commissions, achieving significant recognition through global media exposure. BBC Music Magazine called Fuchs "a master of orchestral writing." His music has been performed in the United States, Europe, and Asia.
With Pulitzer Prize-winning playwright Lanford Wilson, Fuchs created three chamber musicals, The Great Nebula in Orion, A Betrothal, and Brontosaurus, which were originally presented by Circle Repertory Company in New York City. His operatic monodrama Falling Man (text by Don DeLillo, adapted by J. D. McClatchy) was presented at the National September 11 Memorial and Museum in commemoration of the 15th anniversary of 9/11. The London Symphony Orchestra has recorded four discs of Fuchs's music for Naxos American Classics. The first, released in 2005, was nominated for two Grammy Awards (Best Instrumental Soloist Performance with Orchestra and Producer of the Year, Classical). The third disc, recorded in 2011 at London's historic Abbey Road Studios, was included in the 2012 Grammy Award nominations for the category Producer of the Year, Classical. The fourth disc, recorded at Abbey Road Studios in August 2013, featuring baritone Roderick Williams in a program of vocal music based on texts by Don DeLillo, John Updike, and William Blake, was released in August 2014. Gramophone magazine featured the disc in its Awards Issue (October 2014), stating, "Fuchs claims his own expressive warmth and colour…. The performances are exemplary, from baritone Roderick Williams's commanding artistry to the bold, fresh playing of the London Symphony Orchestra under JoAnn Falletta's sensitive direction."
Fuchs's 2013 disc of chamber music includes Falling Canons (Christopher O'Riley, piano), Falling Trio (Trio21), and String Quartet No. 5 American (Delray String Quartet). The highly successful disc Kenneth Fuchs: String Quartets 2, 3, 4 was performed by the American String Quartet and released on Albany Records.
Fuchs currently serves as Professor of Composition at the University of Connecticut. His music is published by the Hal Leonard Corporation, Edward B. Marks Music Company, Theodore Presser Company, and Yelton Rhodes Music, and has been recorded by Albany, Cala, and Naxos Records.