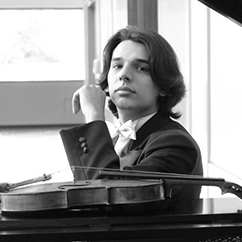 Rafael Torralvo holds a BM and an MM in violin performance from James Madison University and West Chester University of Pennsylvania respectively, and an MM in Musicology from the Frost School of Music at the University of Miami. Currently, he is pursuing a PhD at Cornell University where he is a Sage Fellow. His academic research focuses on the intersection of music, literature, and politics to illuminate the construction of national identity in Brazil during the military dictatorship (1964-1985). Through the integration of historiographical perspectives with musicological, theoretical, ethnomusicological, and socio-literary approaches, he investigates issues related to the negotiation of tradition, modernity, and cosmopolitanism, as well as transcontinental and intercontinental influences in the conception of Brazilian modernism. His research was sponsored by the Field Research Grant from the Institute for the Americas and the Ralph Stewart Scholarship, and he presented his work in conferences both domestically and abroad, including the AMS Southern Chapter meeting at the University of Southern Mississippi, the University of Arizona, and the University of Birmingham (UK).
In addition to his academic studies, Rafael is active as a violinist and chamber musician whose interest ranges from historically informed performance to contemporary music. He studied chamber music with members of the Vermeer Quartet and the Saint Louis String Quartet and appeared as soloist and recitalist in concert engagements through Europe, United States, and South America.
As an educator, Rafael is committed to musical empowerment, and in 2013, he created in his hometown the "Encontro Internacional de Cordas," a festival that provides underprivileged students with a free opportunity to study with renowned artists. To celebrate the fifth anniversary of the festival in 2018, he introduced a series of cross-disciplinary lectures debating current socio-political and cultural concerns in Brazil to respond to issues in Latin American music and culture. For his work as artistic director of this festival, Rafael received the Fumagalli Trophy, the most prestigious recognition awarded by the city of Limeira.