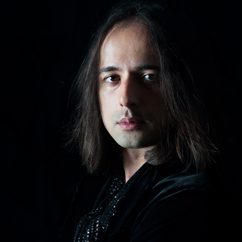 Misha Dacic, B.M. '07, recently recorded an album titled Liszt: Piano Music for a Dutch record label. Listeners have said "this is one of the finest and most important recordings of Liszt's music ever made," and "the engineering of this CD is absolutely first-rate."
Dacić has played in numerous international competitions including several Yugoslav regional piano competitions, the First Piano Competition in Novi Sad Yugoslavia and the Liszt Competition in Budapest. In 2002 he won top honors at the Premio Silvio Bengalli Competition for Pianists in Piacenza, Italy. Dacić made his American debut at the Miami International Piano Festival in 2003. Dacić also appears in solo recitals and as a guest soloist, in Central and South America, Europe, the Middle East, and Japan.  In 2009, he joined the legendary violinist Ida Haendel on a tour in Japan, performing with her all over the world ever since.
Dacić studied with Professor Frank Cooper at the Frost School of Music, where he majored in keyboard performance.