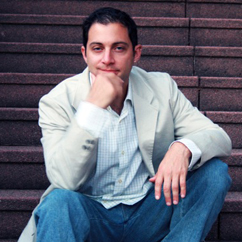 Jeremy Fox, D.M.A. '00, was recently selected to present a clinic at the 2012 International Jazz Education Network Conference in Kentucky, where he will present a clinic on Vocal Jazz Arranging to the members of the organization.
Fox was also selected to be the Guest Conductor for the 2012 California All-State Vocal Jazz Group, which represents a group of 16 of the finest high school jazz singers in the state.
The Fox Festival, named after him, took place in February 2012 at The School for Music Vocations at Southwestern Community College in Creston, Iowa. The festival is one that Fox re-initiated in 2001 at the college.  The first year of the festival, seven high school groups participated. In 2011, near 40 high school and college groups attended from seven states and parts of Canada.
Fox majored in in jazz composition at the Frost School of Music.