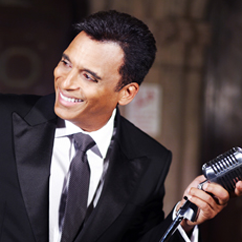 Jon Secada, B.M. '83, MM '86, is a three-time Grammy winner and international superstar.  With sales of more than 20 million albums worldwide, Secada is also a veteran of Broadway, television, and an accomplished producer.
Secada joined Gloria Estefan's band as a background singer when he left UM, where he composed several ballads for Estefan, including the number one hit "Coming Out of the Dark."
His debut album Jon Secada went triple platinum, and the Spanish-language version was the Number One Latin album of 1992, earning a Grammy for Best Latin Pop Album.  Secada's second album, Heart Soul and Voice, went platinum, and his third album, Amor, earned a Grammy for Best Latin Pop Performance.  In 2006, Secada shared a Grammy for Songs From The Neighborhood: The Music of Mister Rogers.  Secada has released numerous top thirty hits and albums since, and in 2010, released his first concert DVD, "Stage Rio" from his 2009 Brazil tour.  Secada has co-written and co-produced songs for Ricky Martin, Jennifer Lopez, and Mandy Moore for their multi-platinum albums.
Secada has starred on Broadway as Danny Zuko in Grease, as the Emcee in Sam Mendes' Cabaret, and as Joseph in Lloyd Webber's & Rice's Joseph and the Amazing Technicolor Dreamcoat.  He was a longtime celebrity judge on Latin American Idol.
Through "Jon Secada Charities," Secada supports charitable initiatives worldwide, including the President's Advisory Commission on Educational Excellence for Hispanic Americans, and "Keeping Music in Schools."
He majored in jazz at the Frost School of Music and received the Distinguished Alumnus Award in 1999. For more information on Secada visit his website.