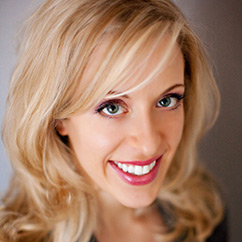 A noted expert on Scandinavian vocal literature and diction, Dr. Anna Hersey was a Fulbright Scholar at the Kungliga Musikhögskolan (Royal College of Music) in Stockholm, where she collaborated with pianist Matti Hirvonen. Dr.

Hersey

also conducted research at Det Kongelige Danske Musikkonservatorium (Royal Danish Academy of Music) and Københavns Universitet (University of Copenhagen), thanks to a post-doctoral fellowship from the American Scandinavian Foundation.
 
Dr.

Hersey

's articles have been published in the Journal of Singing, VOICEPrints, and The Opera Journal, and her translations have been published by Carnegie Hall. Her first book, Scandinavian Song: A Guide to Swedish, Norwegian, and Danish Diction and Repertoire was released by Rowman & Littlefield in September 2016. Recent performances have been sponsored by Finlandia Foundation, American Scandinavian Foundation, Sons of Norway, The Lief Eriksson International Festival, and The Grieg Society.
 
Dr.

Hersey

holds master's degrees in performance and musicology from the University of Minnesota, and pursued advanced studies at the Accademia Musicale Chigiana in Siena, Italy. She is Assistant Professor of Voice at University of Wisconsin Oshkosh.