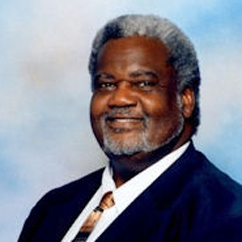 The career of University of Miami Frost School of Music 1997 Distinguished Alumnus Curtis Rayam, B.M. '73 has taken him through some of Europe's most venerable opera houses. The American tenor rose to international prominence in 1984 when he substituted for the ailing Luciano Pavarotti and sang the title role of Mozart's Idomeneo to critical acclaim.
Rayam made his professional debut with the Miami Opera in Puccini's Manon Lescaut. He established a national reputation with the Houston Grand Opera in the role of Remus in Scott Joplin's Treemonisha, which was recorded on Deutsche Grammophon. He went on to perform in ten HGO productions, including the award-winning tours of Porgy and Bess and Showboat. Rayam made his European debut at the Wexford Festival in Giovanna d'Arco by Verdi, returning as the Sultan in Mozart's Zaide and as Wilhelm Meister in Thomas' Mignon.
Rayam had further engagements at Salzburg, Paris, Frankfurt and Venice. In a 1986 PBS broadcast, he performed in Berlioz' La damnation de Faust with the Philadelphia Opera.  In 1992, celebrating the fall of the Berlin Wall, the German Consulate invited Mr. Rayam as a guest soloist in Handel's Messiah at the John F. Kennedy Center.  For three decades, Mr. Rayam performed extensively in the United States, Germany, Austria, France, Israel, Vienna, and South Africa with major opera companies and symphony orchestras.
Ryam is currently on the faculty of Bethune-Cookman University as a voice lecturer. He is a member of the National Opera Association, completing two consecutive terms on their Board of Directors.