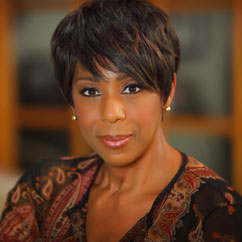 University of Miami School of Music 1994 Distinguished Alumna Dawnn Lewis, B.M. '82 is a triple-threat performer who has more than a hundred theater, film, and television credits.
The Los Angeles-based actress is best known for her television role as Jaleesa in the hit TV sitcom A Different World, for which she also penned the theme music. In addition, she starred in Hangin' With Mr. Cooper, performing its Season 1 ensemble theme song. Lewis is a Grammy Award-winning singer, a multiple ASCAP and BMI Award-winning songwriter, and an actress who has appeared in such feature films as I'm Gonna Get You Sucka, Dreamgirls, The Preacher's Kid, and Futurama: Into The Wild Green Yonder. Lewis has enjoyed recurring roles on the TV series One Tree Hill, The Secret Life of the American Teenager, Strange Frame, and as Dr. Knapp on Days of our Lives.
Lewis' stage credits include appearances as Addapearle in the 2009 NYC City Center "Encore's" presentation of The Wiz, and as Deloris Van Cartier in Peter Schneider's 2006 Sister Act: The Musical at the Pasadena Playhouse. She starred in world premieres of Norman's Ark at the Ford Theatre and Burt Bacharach/Hal David's musical Love Sweet Love. She received the Best Actress: Fred Award (Los Angeles), the 2008 Intergrity Award from the Los Angeles Women's Theatre Festival, a nomination for 2007 Best Actress: Suzi Award for Sister Act (Atlanta, Alliance Theatre), and the 2000 Best Actress; NAACP Image Award for The Marriage.
The title song for Lewis' successful solo CD Worth Waiting For is featured on the Disney movie The Poof Point soundtrack, in which she also starred.