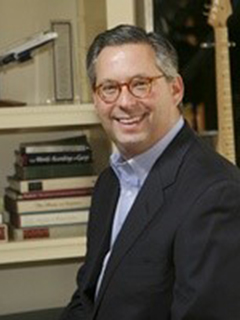 Michael Lazarus
 is a partner of Main Post Partners, the successor fund to Weston Presidio, a $3.3 billion growth equity fund which he Co-Founded and was CEO since its inception in 1991
.  Michael currently serves on the Board of Directors for Azul 
Linhas
Aereas
Brasileiras
.  He was previously the founding Chairman of 
JetBlue Airways (NASDAQ: JBLU), Co-Chairman of Fender Musical Instruments Corp. 
and served on the Board of Directors for
 Jimmy John's Gourmet Sandwiches, Restoration Hardware (NASDAQ: 
RSTO), Morris Air/Southwest Airlines, Guit
ar Centers, Inc. (NASDAQ: 
GTRC)
, 
Integro
, Inc., 
and Ap
ple American Group (Applebee's), as well as other privately-held growth companies.
Raised in Lancaster, PA, Michael graduated with a B.A. in Accounting fro
m Grove City College.  He currently serves the community as the Board Chair of SFJAZZ and a Trustee of the Frost School of Music.  He previously served
as a Trustee of Bowdoin College and San Francisco Day School
.