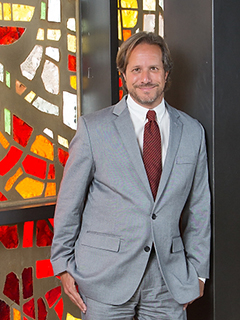 Paul T. Lehr, J.D., has been involved in the arts since the age of six, having trained as a classical pianist and worked as a musician as well as an actor in film and theater.  He earned his B.A. from Brown University and his J.D. from the University of Florida with high honors.  He worked as a law clerk for a federal judge, practiced law, and built and ran a successful for-profit business and non-profit foundation before joining the Arison Arts Foundation/National YoungArts Foundation in 2010.   
From 2010-2015, Lehr served as CEO of YoungArts, where he led the transformation of this national non-profit arts organization including development of its first national headquarters through the acquisition and expansion of the landmark Bacardi campus in Miami, working closely with Frank Gehry on the master plan.  Lehr also helped to create programming around the country with MoMA PS1, LACMA, PAMM, the Kennedy Center, Lincoln Center, and the Hirshhorn/Smithsonian; music and television partnerships with Universal Music Classics, Sony Music, PBS, and HBO; performances and exhibitions with Robert Redford, Bobby McFerrin, Shelly Berg, James Blake, Plácido Domingo, Chick Corea, Joshua Bell, Olafur Eliasson, Bruce Weber, Ben Folds, and Marina Abrámovic; and development, branding and roll-out of Emmy-Award winning HBO series YoungArts MasterClass and its accompanying educational study guide distributed across the country.   
Lehr now serves as the CEO of GroundUP Music, an imprint of Universal Music/Verve, which includes on its roster three-time Grammy Award-winning Snarky Puppy, two-time Rock & Roll Hall of Fame legend David Crosby, and 15 other global artists. GroundUP provides publishing, management, production, and other artist services.  In addition to overseeing operations and developing partnerships, Lehr also produces the annual GroundUP Music Festival in Miami Beach, with performers including Esperanza Spalding, Béla Fleck & the Flecktones, Chris Thile, The Wood Brothers, Shelly Berg, Robert Glasper, and others from around the world, with plans to expand the festivals to Buenos Aires beginning in 2019 and Italy and elsewhere in 2020.      
Lehr is a member of the Screen Actors Guild (Taft Hartley) and serves on the Board of Trustees for the Robert & Sibylle Redford The Way of the Rain Foundation, and the University of Miami Frost School of Music Visiting Committee.  In addition to his work in the arts, Lehr also works in the science/health/medical field, having co-founded a biotech company, HeartGenomics, which developed gene-signature-based diagnostic and prognostic tests for heart failure, and is the International Executive Director for Longeveron, a stem-cell/regenerative medicine company with clinical trials in Aging Frailty and Alzheimer's, co-founded by Dr. Joshua Hare, the Chief Sciences Officer at the University of Miami Miller School of Medicine, and Director of its Interdisciplinary Stem Cell Institute.