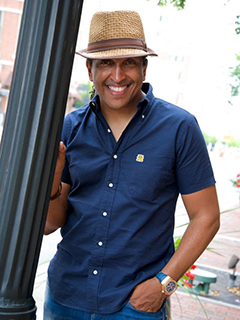 James is chief digital evangelist and a partner at StudioGood, an award-winning, a privately held digital agency focused on social good. he is a founder and entrepreneur specializing in social media strategy and execution and brings global agency and strategic start-up experience to StudioGood's leadership team. Prior to StudioGood, he was founder of Social People, a hybrid agency that combined marketing, public relations, advertising, and content development, 2010-2013. His Social People clients included Nike, Equinox Fitness, Grammy Awards, Lexus, and Beats by Dre. He also served as a former vice president for Ketchum Digital Social Media and worked with FedEx, Monster, Nokia and Geek Squad. In addition, he served as senior marketing director at Columbia Records for four years.
James is also a globally sought-after speaker, a contributor to CNN, CNBC, and Fox, was named to the 2012 Ebony Power 100 list, and blogs for Fast Company and Huffington Post.
James attended Ventura College and earned a BA from University of California Los Angeles.
The Andrews reside in Atlanta, Georgia. Son, Elijah Kirkland-Andrews has just completed his freshman year at the Frost School of Music. Mrs. Sherrelle Kirkland-Andrews is a homemaker. She is an alumna of University of California Los Angeles and Arizona State University.