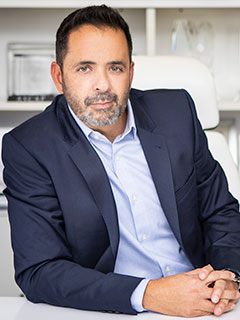 Jorge Mejia, B.M. '96 is President & CEO for Sony Music Publishing Latin America and US Latin, a role in which he is responsible for Sony Music Publishing's operations across Latin America and the US Latin market, with offices in Argentina, Brazil, Chile, Colombia, Mexico, and Miami.

During his tenure at Sony Music Publishing, Jorge has been instrumental in guiding Sony Music Publishing Latin to become the leading music publisher in the Latin industry, with a record-setting 17 ASCAP Latin Publisher of the Year wins, multiple Billboard Publishing Corporation of the Year, BMI Latin Publisher of the Year, and SESAC Publisher of the Year awards. In 2016, Sony Music Publishing became the first Latin publisher to win the ASCAP, BMI, and SESAC Publisher of the Year awards in a single year, the 'Triple Crown of Publishing', a feat repeated in 2017 and 2018. Sony Music Publishing owns or administers over 3 million copyrights by such artists as The Beatles, Beyonce, Ed Sheeran, Luis Fonsi, Daddy Yankee, and Maluma to name but a very few.

A Latin GRAMMY® nominated composer and a Steinway Artist, Jorge studied piano at the New World School of the Arts, the New England Conservatory of Music, and finally earned his Piano Performance degree from the University of Miami. His most recent release is An Open Book: A Memoir in Music, a set of 25 Preludes for Piano and Orchestra plus narratives a project which went on to garner a Latin GRAMMY® nomination for Best Classical Contemporary Composition.
Jorge sits on the advisory board of the University of Miami Frost School of Music, as well as the board of the Latin Songwriters Hall of Fame. He has been named to the Latin Power Players list every year it has been published, starting in 2010 and, most recently, in 2020. Jorge is based in Miami where he lives with his wife and two dogs.