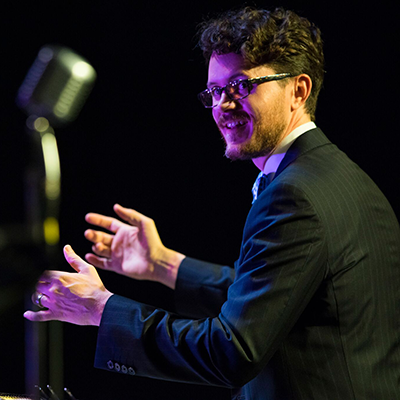 "Frost has a unique blend of academic and professional experiences available to students. That, along with the vibrant student community I built relationships with, have been great in the development of my career."
 
Trumpeter, Composer, and Educator Dr. Matthew White is currently an Associate Professor of Music and coordinates the commercial music and music technology programs at Coastal Carolina University. He was previously a first call freelance and session musician in Nashville and Miami. He holds degrees from the University of North Florida and The University of Miami and has appeared on numerous albums, radio broadcasts, and television shows, performing with: Bob Mintzer, Jeff Coffin, Arturo Sandoval, Dave Liebman, Rihanna, Oscar DeLeon, Brian Setzer, the Mavericks, Steve Bailey and Victor Wooten, Becca Stevens, and various other artists, ensembles, symphonies, and big bands.
 
In 2019, Matt was named a Guggenheim Fellow in Music Composition. He was a keynote speaker at the 2017 National Association of Leadership Educators Conference. He is a member of the Charleston Jazz Orchestra and manages the Wheelwright Recording Studio at CCU.
 
Matt has released three albums as a leader. The Super Villain Jazz Band and Worlds Wide both received 4-star reviews in Downbeat Magazine and made the "Best of" yearly lists. Matt wrote, tracked, engineered, and produced his latest album, The Trumpet.
 
Matt is a Bach Trumpet and Patrick Mouthpiece performing artist.