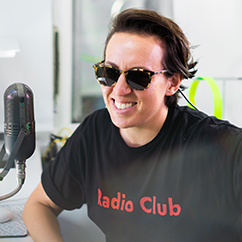 "My favorite part about going to Frost was learning how to hone my professional skills while actively using them. I was already working in my industry I would get booking contracts from talent agents, agreements from venues, sponsorship proposals, etc and be able to go over them in class with my professors and fellow students." – Laura Surnick

 

Laura of Miami gained professional momentum when she co-hosted the University of Miami radio station WVUM, which was deemed "The Best College Radio Station in the Country" by MTV.

Today, she pioneers the return of organic radio play, as co-founder of Klangbox.fm; replacing mathematical algorithms in song selection with knowledgeable people in front of a microphone.

Laura was called Miami New Times Best Female DJ in 2014, and Miami New Times Best DJ 2012.