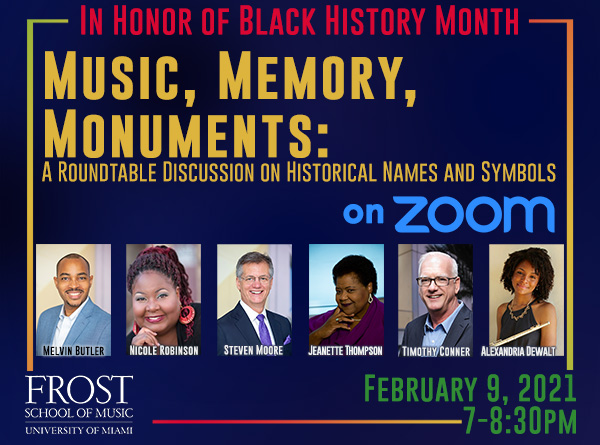 February 9, 2021, 7:00 p.m.

Music, Memory, Monuments: A Roundtable Discussion on Historical Names and Symbols

Since the killing of George Floyd on May 25, 2020, there has been a heightened awareness in the United States of racism, white supremacy, and the destructive inequalities that have long plagued our institutions of higher learning. As part of the University of Miami's efforts to advance racial justice, President Frenk formed a special committee last fall to review the naming and/or un-naming of campus buildings and spaces. Given our understanding that racist caricatures and demeaning stereotypes were used to promote and sell Henry Fillmore's trombone compositions, the Frost School Culture, Equity, and Diversity Advisory Committee has called for the renaming of Fillmore Band Hall, one of our School's most utilized rehearsal spaces. But calls to rename campus buildings and the outrage over recent acts of race-related violence are not reactions to novel phenomena. Rather, these connected concerns fit within a long history of grappling with social injustices that are systemic and ongoing.   

This moderated roundtable discussion explores the interplay of music, memory, and monuments—a trifecta of concerns centered on music as a tool for commemorating, celebrating, and challenging complex and often problematic historical narratives. As music students, teachers, and practitioners, how might we best come to terms with musical "flags" and symbols of an inglorious past tied to canonic repertories and/or "beloved" historical figures? In light of first amendment freedoms, how do we position ourselves in relation to cultures of cancellation and/or historical "erasure"? And what pedagogical and/or performative interventions, if any, should we be making as we strive towards the ideals of diversity, equity, inclusion, and belonging both in the Frost School and our broader communities?