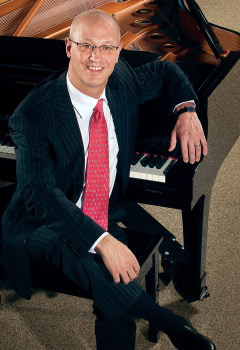 Shelton G. Berg became the fifth dean of the Phillip and Patricia Frost School of Music in June 2007. He is also the Patricia L. Frost Endowed Professor of Music. Upon arrival, Berg worked quickly with the faculty to design and implement the Frost Experiential Music Curriculum for undergraduates, and create new graduate degrees including Masters in Arts Presenting and a joint J.D. and M.M. in Music Business. He attracted the Henry Mancini Institute to the Frost School of Music, providing cross-genre performance, recording, and community outreach opportunities for graduate students.
Formerly the McCoy/Sample Endowed Professor of Jazz Studies at the USC Thornton School of Music, Berg is an internationally recognized pianist, composer, arranger, author, and educator and is widely acclaimed for his energetic and innovative approaches to jazz performance, composition, and pedagogy. He was chair of the USC Thornton School's Department of Jazz Studies from 1994 to 2002.

A Steinway artist, Berg has performed and recorded with top music industry professionals and has contributed and/or orchestrated music for major orchestras and motion pictures. University of Miami President Donna E. Shalala praised Berg's hire: "We are incredibly fortunate to have Shelly Berg join the University community as our new dean of the Frost School of Music. Not only is he a world-class jazz pianist, but he has the administrative experience and the vision necessary to lead the Frost School as it meets the challenges of the 21st century."

A major capital campaign is underway to construct a new facility that is reflective of the needs of Frost Method® and to increase the School's endowment. In addition, Dean Berg is raising significant funds for Frost MusicReach - a music mentorship program for at-risk teenagers and is inspiring special scholarship programs such as the Stamps Family Charitable Foundation that is providing a unique series of chamber ensemble scholarships for top-flight student musicians in the areas of strings, woodwinds, brass, and jazz.

In addition, Berg is hiring dozens of new faculty to succeed many of the fine professors hired by Lee and Hipp, and in the process attracting marquee master-musicians and artists-in-residence to join the faculty. It is a period of both excitement and careful planning to ensure the special collegiality of the Frost School is maintained.
At this moment in history, the Frost School of Music is one of the largest schools of music housed in a private institution in the United States, and among the most comprehensive in all of higher education. Many of its programs and faculty occupy positions of national and international prominence. Building excellence is a never-ending challenge; continued vision, unity, diversity, and courage will, as always, make the critical difference.