In the 1920s, the United States was rollicking with flappers, automobiles, radio and other technological innovations, Al Capone and organized crime, Louis Armstrong, John Philip Sousa, Charles Ives, and much more. This time of boom, followed by an economic crash and then World War I, defined the culture of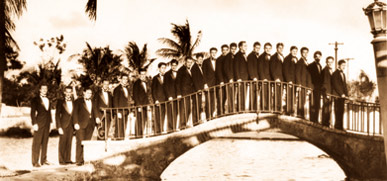 Miami and its promoters – especially real estate visionary George E. Merrick, the founder of the City of Coral Gables. South Florida's land boom climaxed in the mid-1920s, as Merrick was bringing his plans for the new city of Coral Gables to fruition. Right from the beginning, his planned community would contain a private university that would attract northerners and serve as a bridge to the Caribbean and Central and South America.
One of Merrick's backers, James Cash Penney, pledged $200,000 toward a school of music in honor of his wife, Mary Kimble Penney. Part of that gift was to be $75,000 to endow a professorship, to be used as an inducement to hire Bertha M. Foster, a graduate of the Cincinnati College of Music, to bring her Miami Conservatory into the new university project. Foster agreed, and the planning started. However, on September 17, 1926, catastrophe struck. A devastating hurricane hit the city, and Coral Gables and the new university were in shambles before they even had a chance to begin.
Foster's hopes and dreams for a school of music at the new University of Miami faced not only the usual problems inherent in human ventures but now she had to deal with a blow from nature. Merrick went broke and J.C. Penney's pledge for the fledgling school of music turned to dust in the wind and took Foster's endowed chair along with it.