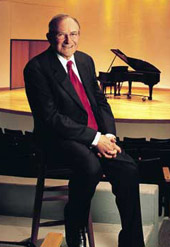 J. William Hipp, previously the chairman of the Division of Music at Southern Methodist University in Dallas, Texas, became the School of Music's fourth dean in June 1983. He set to work reorganizing the School into eight departments – Instrumental Performance, Keyboard Performance, Music Education and Music Therapy, Musicology, Music Media and Industry, Studio Music and Jazz, Theory and Composition, and Vocal Performance. He also launched the School's widely successful outreach program, Festival Miami, in 1984 and supported the development of a wide range of outreach and community engagement activities, including the UM's internationally renowned Salzburg Summer Program; UM MusicTime, an early childhood program; Honor Band and Honor Choir; Keyboard for Kids; Strings for Kids; and many more.

Under Dean Hipp's leadership, the School's administration and faculty worked diligently to place the School in a stable financial position. Since 1983, approximately $100 million in cash and in-kind gifts were raised to support the School's programs and facilities, excluding planned gifts.

Exactly 20 years later, in 2003, the School was renamed the Phillip and Patricia Frost School of Music, in recognition of a landmark $33 million gift from philanthropists Dr. Phillip and Patricia Frost, the largest gift ever made at the time to a university-based music school in the United States. The Frosts also created The Abraham Frost Endowment, which supports the commissioning of new works biennially, reinforcing the School of Music's commitment to the creation, performance, and recording of new works.

"The arts play a vital role in the life of a community, and music, in particular, is a unifying force that transcends age, race, and culture. Miami is our home, and Patricia and I wanted to create a legacy that would enhance and sustain the school's important work," said Dr. Phillip Frost, former chairman of the University's Board of Trustees and former chairman/CEO of IVAX Corporation, a Miami-based, publicly-traded, multinational pharmaceuticals company.

During the last two decades, the Marta and Austin Weeks Music Library and Technology Center and the L. Austin Weeks Center for Recording and Performance have been constructed, named for generous University benefactors L. Austin and Marta Weeks. The late Mr. Weeks was a retired petroleum geologist and former director of the Bermuda-based company, Weeks Petroleum Ltd.